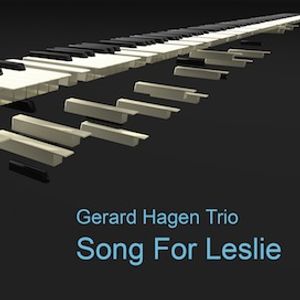 REVIEWS FOR GERARD HAGEN

What People Say About "Song For Leslie"
DEC.14
Gerard Hagen Trio is reviewed by The Borderland
THE BORDERLAND
by John M. Peters
Gerard Hagen Trio - Song For Leslie (Surf Cove jazz SCJ103)
Pianist Gerard Hagen is no stranger to MusicWatch - this may be his first solo album received here but his albums with his wife, jazz vocalist Leslie Lewis, have always been rated highly. The album title is obviously a tribute to his wife, but this album is a showcase for him and his trio - Song For Leslie is purely instrumental throughout. While I wouldn't describe this album as 'smooth jazz', Mr Hagen's style is very smooth and assured - there are no jagged edges to the performances.
The interaction between the piano, drums and bass are deftly interwoven and sound remarkably confident - you can tell these musicians have been working together for a long time. The other musicians are: Dominic Genova - bass, and Jerry Kalaf - drums. Song For Leslie contains seven tracks, two tracks written by Gerard Hagen, two by Jerry Kalaf and the remainder covers of songs by Rodgers and Hart and Cole Porter. The titles are: My Romance, A Weaver Of Dreams, What Is This Thing Called Love?, Song For Leslie, Where Gerard?, Looking At The Despair Calendar, 464 Blues. I wouldn't call the music on this CD laid-back but it is reflective and the romance within is inferred, of course. 
The style and sound here harks back to the classic albums of pianists such as Oscar Peterson and Erroll Garner - very easy on the ear and great for relaxing to. Recommended.
For more information about this artist, album and availability visit:
www.surfcovejazz.com
_________
OCT.  14
Gerard Hagen is reviewed by This is Books Music
THIS IS BOOKS MUSIC
by: John Book

REVIEW: Gerard Hagen Trio's "Song For Leslie"
Jazz music comes in many variations and flavors, and if you are into music in a trio setting, there's a vast world of music to choose from. If you want something new, check out the last project from the Gerard Hagen Trio. Song for Leslie (Surf Cove jazz) is perfect for any kind of mood, although a quick glance at the track listing will help form an aura of what to expect: "My Romance", "Looking At The Despair Calendar", "What Is This Thing Called Love?", and "A Weaver Of Dreams". Five of the seven tracks are familiar to jazz fans, with the other two being brand new Hagen compositions, including the very-fine title track, in honor of his wife. Hagen's piano work has always been powerful, and this album shows what brings people to stores and concert venues. Very moving, and more than qualified to satisfy.
_________
OCT. 8
Gerard Hagen Trio is reviewed by Jazzscene
JAZZSCENE
by: George Fendel
Song For Leslie, Gerard Hagen, piano.
Prior to the arrival of this CD, I owned exactly two Hagen recordings, and I really liked both. That opinion is reinforced here with Hagen and his mates maneuvering right down the center of the mainstream highway. I know that this may be hard to believe, but this is a piano-bass-drums album. Think about it. That's rare in this day and age when so many are tempted to play a couple tunes on Rhodes, or perhaps the bass player switches to the electric model. Or any of so many other ways to dilute a session. Not this time, as Gerard Hagen, a faculty member at a Los Angeles area university, swings with ease and elegance through seven selections. His trio is completed by Domenic Genova, bass, and Jerry Kalaf, drums. They give us three standards and four originals. You just know that nice things are going to happen when Hagen leads off with "My Romance." Continuing that auspicious beginning, the trio then takes on "A Weaver of Dreams" and "What Is This Thing Called Love." From the original bag, Kalaf's tune, "Where's Gerard?" had a "Waltz For Debbie" feel, and Hagen's "464 Blues" is an intriguing stop and go vehicle, and a great closer. Hagen is a solid player with a gorgeous, sure touch. Do yourself a favor and check him out.
Surf Cove Jazz; 2012; appx. 51 minutes.
____________
Gerard Hagen Trio: Song For Leslie.
Jazz Music: C.J. Bond
Year: 2012

Style: Jazz Instrumental
Label: Surf Cove Jazz
Musicians: Gerard Hagen - piano; Domenic Genova - bass; Jerry Kalaf - drums.

CD Review: When last heard, Gerard Hagen and his trio were providing excellent backing for his talented wife, song stylist, Leslie Lewis, on her outstanding CD: Leslie Lewis with the Gerard Hagen Trio: Midnight Sun (Surf Cove Music, 2012). We learned then that Hagen's pianism could be 'measured, thoughtful, and logical,' and that the influence of pianists Tommy Flanagan and Bill Evans informed his 'exceptional melodic swing, harmonic sophistication, and bluesy inventions.' (jazmuzic.com). Well, nothing has changed! Except the mission; revealed in the CD's title: Gerard Hagen Trio: Song For Leslie. It seems quite natural, under the circumstances, that Hagen would embark on this poignant tribute inspired by a declarative, unambiguous lyric: "My romance doesn't have to have a moon in the sky/My romance doesn't need a blue lagoon standing by" (My Romance; Richard Rogers & Lorenz Hart: 1935).
This mission is afforded credibility by Hagen's formidable musical pedigree (Bachelor and Master's degrees in Music; associate professor of jazz piano at Saddleback College in southern California), and given enormous lift by his substantial artistic coinage (His recordings have received critical acclaim in L.A. Times, L.A. Jazz Scene, Jazz Improv Magazine, Cadence Magazine, All About Jazz, All Music Guide And others). In the final analysis however, it is about love: one of the most basic human emotions. Indescribable. Euphoric. Powerful. Even though Hagen is quoted as saying  Song For Leslie, "was an opportunity to document some original music Jerry (Kalaf) and I had written as well as make a snapshot of where this group is after these many years of working together." What feeds love is music, or so thought William Shakespeare: "If music be the food of love, play on./Give me excess of it..." (Duke Orsino of Illyria: Twelfth Night). So Hagen plays on....
Turning to Jack Elliot & Victor Young's (A Weaver Of Dreams), Hagen imbues his instrumental interpretation with the melodic swing and harmonic sophistication that is his wont. Jerry Kalaf displays a fine sense of mood and timing, with impeccable brush work, underscoring the truth that the trio can bring a feeling of intimacy and presence to jazz like no other aggregation; and this trio is exceptional.
Cole Porter's music seems to lend itself naturally to jazz, and many of his compositions have become jazz standards, with notable performances from many celebrated jazz singers, orchestras and musicians: Ella Fitzgerald - Night And Day; Artie Shaw Orchestra - Begin The Beguine; Miles Davis Quintet 1958 - Love For Sale; Nat Cole - Just One Of Those Things; Billy Eckstine - In The Still Of The Night; Bill Evans/Jim Hall - I've Got You Under My Skin, to name just a few. Cole Porter's music stands tall in the pantheon of popular music. Following in this tradition, Hagen extends the 'love' motif, reprising Cole Porter's 1929 popular song (What Is This Thing Called Love); a song whose chord progressions have formed the basis of jazz compositions by Tadd Dameron, Fats Navarro, John Coltrane and Charles Mingus. Bassist Domenic Genova opening solo is deeply melodic and creates an emphatic harmonic root off which Hagen's chord selections, and Kalaf's rhythmic innovations develop the tune's natural, ingrained swing.
Hagen puts his prodigious composing talent on display for the centerpiece, and title track (Song For Leslie). A slightly angular piano passage opens the piece that flares into a thematic statement, building tension and force, that is released into a graceful, singing, melodic line, and inventive improvisation, with an architecture reminiscent of that of the late pianist William John "Bill" Evans. Hagen demonstrates wit, congruity, and penetrating discernment in his composing skills with a reprise of the initial thematic statement which he builds into a tense, satisfying climax to end the piece.
An exploration of the composing thought processes of bassist Jerry Kalaf (Where's Gerard?) reveals striking similarities to Hagen's approach. What emerges is thoughtful, lucid, and coherent, no doubt a consummation of 'these many years working together' (Hagen). Kalaf's other offering (Looking At The Despair Calendar) is intimate and tailored for the rhythmically independent style that is another of Hagen's dominant strengths. These two tunes bring a warm aesthetic balance to the date, and further affirm the 'motif' of caring, association, compassion, love, and celebration.
Those music enthusiasts drawn to jazz in the trio format, will do well to add Gerard Hagen Trio: Song For Leslie to their jazz music collection.
Track Listing: My Romance; A Weaver Of Dreams; What Is This Thing Called Love; A Song For Leslie; Where's Gerard?; Looking At The Despair Calendar; 464 Blues.
_________
SEPT. 2
Gerard Hagen Trio is reviewed by Critical Jazz
CRITICAL JAZZ
by: Brent Black
Gerard Hagen Trio Song For Leslie Surf Cove Jazz 2012
To love what you do is the best...to do it with someone you love has got to be even better! I wouldn't know being a narcissist comes with the job description here so I can only guess.
Gerard Hagen and his trio are rounded out with Domenic Genova on bass and Jerry Kalaf on drums. Song For Leslie which hits the streets on October 23, 2012 is the result of Hagen's desire to document his trio one more time before he and his wife/vocalist Leslie Hagen leave for Europe. Hagen's trio has two prior recordings under their belt but while working as his wife's music director Gerard Hagen of course uses his own trio as the rhythm section for their work together.
Song For Leslie is a personal snapshot for Gerard Hagen, a moment in time with some original tunes and some timeless standards to measure themselves and how far they have come these many years as the trio originated in 1998. Standards included here are the Rodgers and Hart classic "My Romance" along with Cole Porter's "What Is This Thing Called Love?" and "A Weaver Of Dreams" from Jack Elliot and Victor Young. The remaining four tunes on the release are either Hagen originals or penned by drummer Jerry Kalaf.
Hagen is as formidable a composer as he is instrumentalist. "Song For Leslie" which was originally penned with his wedding to Leslie in mind. "464 Blues" gives a natural inclination for a true blues feel. Faking a blues tune doesn't work and Gerard Hagen has little to worry about with this infectious number. "Looking At The Despair Calendar" is a poignant all most brooding ballad with a captivating bridge. Hagen is an accomplished composer and arranger and his skills are testament to that fact on this recording. There is a bitter-sweet melancholy that seems to flow within significant portions of this recording that actually lend themselves well to the connectivity needed with virtually any audience. For Gerard Hagens this is not merely a goodbye to his trio but perhaps more appropriately a musical see you later! A sonic celebration of new adventures and past triumphs works well here. An engaging recording that any jazz piano fan would appreciate!
Tracks: My Romance; A Weaver Of Dreams; What Is This Thing Called Love; Song For Leslie; Where's Gerard?; Looking At The Despair Calendar; 464 Blues.
Personnel: Gerard Hagen: piano; Domenic Genova: bass; Jerry Kalaf: drums.
September 7, 2012 
MIDWEST RECORD 
CHRIS SPECTOR, Editor and Publisher 
Copyright 2012 Midwest Record
Volume 35/Number 322
SURF COVE JAZZ
GERARD HAGEN TRIO/Song for Leslie:  Before decamping for Europe, Hagen wanted to round up the gang for one last recording to hand to posterity.  One of the hidden treasures of the LA jazz scene, if you haven't heard him up to now, make the effort.  A piano swinger in the mode of the 50s Ramsey Lewis Trio, Hagen leads off with a few familiar numbers then segues into originals that should be familiar.  Loaded with low key fire, this is a friendly record all the way through and marks a fond au revoir. Tasty stuff throughout.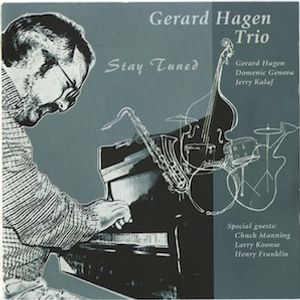 What People Say About "STAY TUNED"
Jazz Improv
GERARD HAGEN
STAY TUNED--Sea Breeze Jazz SB-3049. Sea Breeze Jazz, P.O. Box 1910, Pisino Beach, CA 93448-1910; Website:www.seabreezeiazz.com
Warne-ing; Sweet And Lovely; Confirmation,Bass (And Tenor) Tune; Alone Together; Like Someone In Love; Beautiful Love; Eiderdown; Up Jumped Spring; Bailing.
PERSONNEL: Gerard Hagen, piano; Domenic Genova, Henry Franklin, bass; Jerry Kalaf, drums; Chuck Manning. tenor saxophone; Larry Koonse, guitar.
"a source of ideas ... continuous depth throughout each track"
As Jazz Improv presents in this issue the country's breadth of jazz piano talent, some well known and some should-be-known, Gerald Hagen represents the Los Angeles scene. Recording his second album as a leader, Hagen performs with a clarity and spur of the moment response to just-occurring ideas as he admires, and then reshapes, ten tunes. Always in front as the leader of the tunes, Hagen nonetheless allows the other members of his group to shine, some of whom, such as Jerry Kalaf and Larry Koonse, have already recorded separately on the Sea Breeze Jazz label.
The excellence of Hagen's work on Stay Tuned is of such a high level that one would have expected him to be better known beyond the West Coast. Starting the album with "Warneing," a tune written over the changes of "What Is This Thing Called Love," Hagen at first employs a block-chord technique reminiscent of Shearing's, especially when Koonse plays the top notes of the chords as well. But when Hagen breaks loose into solos, it becomes evident that he is possessed of a swing and improvisational imagination that causes the listener to pay attention. Avoiding musical cliches and never repeating himself, Hagen seems to be a source of ideas, approachable while attaining, continuous depth throughout each track. Sure enough, on "Warne-ing." Hagen's and Koonse's extended solos evolve into a trading of fours with drummer Kalaf.
Speaking of whom, Kalaf, while making the melodic instrumentalists sound even better with his sympathetic energy, is an important part of the CD as well. Not only did Kalaf help master the recordings, but also he composed two of the more interesting tunes: "Bass (And Tenor) Tune" and "Bailing." Both expand upon an intriguing musical concept for fulfillment, "Bass (And Tenor) Tune" swirling in a 6/8 minorkeyed whirlwind of ever-increasing intensity and cohesion; and, "Bailing" involving the extension of long-and-then-halting melodic lines over light percussive colors. In addition, Kalaf's technique is such that he chooses just the right embellishments for Hagen's work, softly brushing the cymbals on "Beautiful Love" or subtly rumbling behind Hagen during his rubato introductions, such as the one on "Sweet And Lovely."
Consisting of mature musicians with an instinctive knowledge of where the others in the group may go, Hagen's trio (or, quintet on some tracks) moves as a solid yet flexible unit. On "Eiderdown," for instance, Koonse and Hagen trade the melodic lines, one minimally accompanying the other, before rejoining for a final statement before the solo section. Or, on "Alone Together," Hagen's always-entrancing lead-in consisting of chord substitutions and unhurried exposition with its internal harmonies evolves into Mannings' affecting tenor sax solo, unfailingly in the groove while he generates his own fire.
Hagen's reassuring touch, whether in the buildup of his solos or in the densely chorded lead-ins to the tracks, makes effective use of the instrument in expressing his thoughts, even as the technical precision of his attack invites analysis. Stay Tuned is a well thought-out CD that is consistent in its richness and confident performance, even as the spirit of the tunes may change to suit the intentions of the composers.
--Bill Donaldson

LA Jazz Scene
GERARD HAGEN TRIO
Stay Tuned
(Sea Breeze Jazz)
As a jazz fan I am always grateful when performers document their trajectory by recording. It's been three years since their well-received debut album Far Horizons appeared on the Resurgent Music label. After four years of playing together, bassist Domenic Genova, composers Jerry Kalaf (drums) and Gerard Hagen (piano) lined up special guests Chuck Manning, Larry Koonse and Henry Franklin to produce their latest offering, a program of both standards and two Kalaf originals.
Gary Foster's "Warne-ing" swings off the disk as the trio provides a foil for Larry Koonse's lickety-split guitar picking.
Sweet and Lovely" opens with a new nwist, broadly phrased, that then springs into a jaunty tempo. The standard lets the soloists strut within a familiar vehicle. Hagen's melodic lines go down so smoothly.
With Manning on board the trio takes on Charlie Parker's "Confirmation."The rich motific tapestry of Kalaf's "Bass (and Tenor) Tune" is also graced by Chuck Manning's sax.
The seemingly lost in limerence piano intro to "Alone Together" gives way to Henry Franklin's driving bass work.
"Like Someone in Love," "Beautiful Love" and "Eiderdown" by Steve Swallow are followed by "Up Jumped Spring" as a radiant, fresh jazz waltz.
You can catch the Gerard Hagen Trio live (no cover) and pick up your own copy of their new entry from 8 PM to midnight on Tuesday, October 30 at Steamers Cafe in Fullerton.
--Cathy Jensen

Jazz Scene Portland OR KMHD Radio
Stay Tuned, Gerard Hagen, piano.
Some time back I reviewed an earlier album by Gerard Hagen and I recall that I was most impressed with him at that time. I've not wavered in that opinion with this new release. He's a player who recognizes the value of space, and he also happens to possess a great touch and an overall high sense of musicality His basic trio is joined here and there by guests Chuck Manning on tenor and Larry Koonse on guitar and all account very well for themselves. The album kicks off with a Gary Foster line on the changes to What Is This Thing Called Love. It's called Warne-ing (for tenorman Warne Marsh) and employs an especially nice ride for Hagen and Koonse. Sweet And Lovelv is taken at a modest, walking tempo while Confirmation introduces Manning's tenor in cool, controlled fashion. Other highlights include Alone Together, Like Someone In Love, Beautiful Love and Up Jumped Spring. Hagen handles solo and comping tasks with skill, energy and class. Next time vou're in LA, check the jazz listings and see where he's playing.
Sea Breeze, 2001; Playing Time- 65:36, ****
--George Fendel

All Music Guide
GERARD HAGEN Stay Tuned
Sea Breeze Records
Gerard Hagen's Stay Tuned establishes two distinctive jazz climates. When the group gets into original or jazz standard material, it takes on a progressive jazz mien. "Bass (and Tenor) Tune" is a thoughtful and musically broad-minded interchange between the forward-looking bass of Domenic Genova and guest artist Chuck Manning on tenor. The trio puts on another face when it comes to the classic standards. Not that they play them straightforward, note for note. Hagen's pianistic extemporizing on "Beautiful Love" is delightful as he executes fluttering runs, putting the entire keyboard into play.
Nonetheless, there is a mainstream jazz feeling about it, with a flavor not unlike that embedded in early groups headed by Kenny Drew. In addition to Manning, the experienced and respected guitar styling of Larry Koonse enhances a couple of cuts. The major contribution comes on Steve Swallow's "Eiderdown," where he and Genova, a bass player of considerable talent, work in tandem to produce an engaging chorus or two. Hagen has a special way with the piano that sets him apart from today's young lions. He is gently respectful of melody, avoiding pianistic gymnastics and chord bashing. "Up Jumped Spring," as much as any track, captures the precious singing tones Hagen gets out of the instrument. Even when another member of the trio starts to blaze, such as Jerry Kalaf's drums on "Sweet and Lovely," the piano player holds himself in check. The session is in no way limited to thoughtful ruminations. Hagen leads the way, with Koonse's clear, ringing guitar in tow, on a tastefully swinging "Warne-ing," Gary Foster's paean to Warne Marsh. Based on this excellent multi-dimensional outing, Hagen shows he is a stylist to be reckoned with.
--Dave Nathan
All About Jazz January 17, 2002

REVIEWS Stay Tuned
The Gerard Hagen Trio (Sea Breeze)
It's easy to Stay Tuned when one hears Jazz as handsomely crafted as that played by pianist Gerard Hagen, his trio and guests — tenor Chuck Manning, guitarist Larry Koonse and bassist Henry Franklin. This is one of those special albums on which every component slides neatly into place and everyone has his chance to shine. Having said that, it should be noted that there is nothing here that can be construed as setting Hagen and his companions apart from many another group whose members are as enthusiastic and talented as they. In other words, there are no transcendent voices here; everyone is simply quite good at what he does, which entails softening his voice when required and improvising at a consistently high level. Hagen, bassist Domenic Genova and drummer Jerry Kalaf (who wrote "Bass [and Tenor] Tune" and "Bailing Out") have been playing together for about four years and have developed a close rapport that encourages ease of movement within an orderly framework. Hagen sidesteps monotony by adding Larry Koonse's bracing guitar on four selections, Chuck Manning's supple tenor sax on three others. Bassist Henry Franklin, who sat in for Genova during a recent trio gig in San Francisco, does the same on Charlie Parker's "Confirmation" and the Howard Dietz / Arthur Schwartz standard "Alone Together." The trio is "alone together" on three numbers, "Sweet and Lovely," "Beautiful Love" and a charmingly graceful reading of Freddie Hubbard's "Up Jumped Spring." Koonse adds spice whenever he appears, especially on the sunny opener, Gary Foster's "Warne–ing," and is a paragon of mellow swing on Johnny Burke / Jimmy van Heusen's "Like Someone in Love." Hagen, a romanticist with a mean right hand, is never less than impressive, while Kalaf and Genova (or Franklin) offer a strong rhythmic backbone on which to maneuver. A well–cooked serving of trio Jazz (with tasty side dishes) that's a pleasure to digest.
Contact: Sea Breeze Records, P.O. Box 1910, Pismo Beach, CA 93448–1910. Phone 818–489–2055.
Track Listing: Warne–ing; Sweet and Lovely; Confirmation; Bass (and Tenor) Tune; Alone Together; Like Someone in Love; Beautiful Love; Eiderdown; Up Jumped Spring; Bailing (65:36).
Personnel: Gerard Hagen, piano; Domenic Genova, bass; Jerry Kalaf, drums. Special guests — Chuck Manning, tenor saxophone; Larry Koonse, guitar; Henry Franklin (3, 5), bass.
--Jack Bowers
Really nice trio/quartet. An excellent program, very well done by all. I'm familiar with Henry Franklin's past work but I'm happy to meet the other guests.
Jack Simpson, Jazz on the Beach
Gerard Hagen is another artist drawing listeners here at WOBO, particularly his "Sweet and Lovely". It swings delicately with a strong rhythm background.
Larry Routt WOBO Radio, Cincinnati, OH
A very solid and swinging date from obviously experienced players.
Lenny Mazel, KCME Radio, Colorado Springs, CO
They cook on these ten songs with good help from guest artists ... Hagen shines on the softer mellow cuts like "Up Jumped Spring". It's very nicely balanced.
D. Oscar Groomes, O's Place Jazz Newsletter, Maplewood, NJ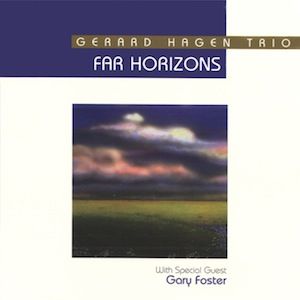 What People Say About "FAR HORIZONS"
... command of his instrument and self-assurance are evident ... along with an appreciation for melody and an ability to swing. Far Horizons is an exciting debut for a gifted pianist and his accomplished young trio.
Ken Borgers, KLON Radio Long Beach, CA.

Pianist Hagen explores a menu of standards and originals with lyrical elegance on Resurgent Music's Far Horizons. Gary Foster's alto sax is heard to perfection on several selections.
"Our Town" George Fendel Portland, OR

Far Horizons features a perfect mixture of standards, jazz classics, and originals. Gary Foster is one of the undersung masters of the alto saxophone and he adds immeasurably to this date.
Peter Coppach, WDCB Radio Chicago Ill.

Gerard Hagen Trio - Far Horizons some of my favorite tunes here - played beautifully, and when you add in Gary Foster, it's all very, very nice.
Jack Simpson "Jazz on the Beach", WFIT Radio Florida

Gerard Hagen has got a very solid thing going, and having Gary Foster along never hurt anyone.
Lenny Mazel, KCME Radio Colorado Springs

Gerard Hagen Far Horizons "Wow, where do these guys come from whom I have never heard of before? This CD is a keeper! Hagen is truly talented and gifted so that one wishes to hear (no, make that listen) multiple times. The trio all have big ears for one another and it plays out just like that. With Gary Foster on alto, as a special guest shot, the validity on this session is increased even more so. I SHOULD CARE and I HEAR A RHAPSODY most aired on my shows.
Bruce Tater, KETR Radio Texas

While Gerard Hagen is a well known giant on the west coast, it was a pleasure to introduce him to my audience on Swingin' With Friends at WORD. He has been well received with requests for repeat plays on such tunes as IN WALKED BUD and I HEAR A RHAPSODY. Gar r Foster is outstanding on YOU AND THE NIGHT AND THE MUSIC. A trio that can swing, like this is always a good bet for a great musical evening, keep up the good work. It's groups like this that keep jazz alive.
Larry Routt, WOBO Radio Cincinnati

I was previously exposed to this CD by friend Gary Foster and am delighted with the entire production. Anybody Gary endorses turns out to be the very best. This is a beautiful production.
Larry Atkins, KTXK Radio Texas

Gerard Hagen Trio swings great and [has a] great feeling for ballads. Can't go wrong with the great Gary Poster.
Ginney Coleman, KCUR Radio Kansas City

An excellent modern mainstream pianist, Gerard Hagen makes his debut as a leader on this trio/quartet set. Bassist Domenic Genova and drummer Jerry Kalaf give Hagen stimulating support, and altoist Gary Foster is in top form during his guest appearances, sounding a lot like Lee Konitz. Hagen, who is influenced by Bill Evans and Tommy Flanagan but mostly sounds like himself, performs seven standards that he reinvents with subtlety, one song by Halaf and two of his own originals. The thoughtful music swings, and although Hagen has impressive technique, he uses it to serve the music rather than the other way around. Overall this is an excellent outing.
Scott Yanow, All Music Guide


Jazzscene April 1999
Far Horizons, Gerard Hagen, piano. A new name to me, Gerard Hagen has produced a polished, lyrical sound in the Bill Evans tradition. Hagen's trio opts for material primarily from the standard and jazz books. Thus we're treated to Yesterdays, In Walked Bud, I Should Care, You And The Night And The Music, Voyage, I Hear A Rhapsody and Black Nile. Gary Foster owns one of the most individual and pure alto sounds anywhere, and this recording is enhanced by Gary's presence on several tunes. Having already mentioned the name of Bill Evans, I would draw your attention to a composition entitled September 15, 1980. This was the date of Evans' death, but this ballad, though poignant, is far from dirge-like. Hagen's originals include Far Horizons and Sheryl's Surprise, both attractively written melodies. It's always a joy to hear Gary Foster and we definitely need an encore from Gerard Hagen. Resurgent Music, 1998, PT. 53:41; ****1/2.
--George Fendel

L.A. Jazz Scene October 1998
CD REVIEWS
GERARD HAGEN Far Horizons (Resurgent)
Pianist Gerard Hagen's recording debut comes from a record label known for its respect of mainstream jazz and a consistently vigilant ear for quality. Tenor saxophonist Dan St. Marseille's small jazz label from Orange, California has featured local favorites such as Cecilia Coleman, Dewey Ernie, Doug MacDonald and David Sills. Hagen has been in Southern California for 15 years playing club dates; his trio includes bassist Domenic Genova, and drummer Jerry Kalaf. Alto saxophonist Gary Foster joins the trio on 5 tracks. Jerome Kern's "Yesterdays" opens the session with cool, straight-ahead piano trio jazz. Hagen keeps the session lively and imaginative while strolling in the spotlight as well as when comping behind solo work from bassist and drummer. Monk's "In Walked Bud" follows with a dramatic up-tempo arrangement that lets each member of the trio stretch out. Whether sweeping with the brushes or keeping time with the sticks, drummer Jerry Kalaf assists greatly with keeping the flow going straight ahead. Wayne Shorter's "Black Nile" presents its familiar melody from the piano keyboard along with bass solo and drum fours. Kenny Barron's "Voyage" features Foster's alto sax in a fast moving toe tapper. The saxophonist lends an exceptionally fluid and fast pace to "You and the Night and the Music." In a unique arrangement, saxophone and drummer are paired for an extended duet that finds each improvising comfortably. This is followed by a piano-bass duet that permits the listener to hear every nuance from the artists. Recommended
--Jim Santella

Jung on Jazz Sept. 1998
GERARD HAGEN Far Horizons
(Resurgent Music)
Born and raised in Bismarck, North Dakota, pianist Gerard Hagen had the privilege of coming from a musical family (as a rule, everyone played two instruments). Playing the trombone and piano, Hagen's interests in high school tended to delve into the rock and roll genre. It wasn't until his jazz band director turned him onto jazz that Hagen, at 18, shifted his course to devoting himself to playing jazz music. After an unimpressive trombone solo in college, Hagen turned his attention to the piano, listening to the harmonic styling of Bill Evans, Tommy Flanagan, Keith Jarrett, Herbie Hancock, and Kenny Barron. Hagen has steadily been a fixture in southland clubs for many years and releases Far Horizons, primarily a trio date with fellow Californians, bassist Domenic Genova, and drummer Jerry Kalaf, guest starring alto saxophonist Gary Foster.
Hagen elegantly walks through Jerome Kern's "Yesterdays," thoughtfully progressing along with the lyrical and harmonic sensibility of Bill Evans. The brush strokes of Kalaf help facilitate the melancholy longing of the tune. Foster initially makes his presence felt, opening a vibrant "I Should Care," surging to the upper registers and unveiling a dynamic solo before allowing the rest of the quartet to work their magic. Hagen's colorful splashes and mature subtleties make for yet another fine moment. The romantic "You And The Night And The Music" is the highlight of this delightful listening experience. Hagen and his quartet cohesively interact with one another and produce a mesmerizing portrait of sensitivity. Foster's sensual wit may be at the forefront of the foursome, but it is Hagen's gentle, seductive phrases that steal the show.
Occasionally, there are diamonds in the ruff, and every once in a great while there is a diamond worth searching for. Hagen's Far Horizons is one to ask the local record retailer for. Available at all fine Tower Records locations or by contacting Resurgent Music at resurgentmusic@earthlink-net, Far Horizons is a listening treasure.

Jazz Improv
Gerard Hagen Trio
FAR HORIZONS
Gerard Hagen is obviously influenced by the late Bill Evans. Domenic Genova's bass work immediately catches your ear. Jerry Kalaf, in addition to being a tasty drummer, is a prolific composer as well. "Sept 15, 1980" is his. The date is the day Bill Evans passed away. As a trio these three meld together for a enjoyable recording consisting of compositions by Thelonious Monk, Wayne Shorter, Kenny Barron, two Hagen originals and the afore- mentioned Kalaf tune, plus four standards that are given beautiful treatments. Alto saxophonist Gary Foster, a personal favorite of this writer joins the trio for several tracks. His Desmond/ Konitz like tone is a gas. His solo opening to "You And The Night" is somethin' else.
"9/15/80," a very poignant piece, showcases his warm alto, and Hagen's passionate piano. Barron's "Voyage" chums along in fine fashion with a colorful solo from Kalaf. Dig the bass-ics by Genova on "Rhapsody" at. the beginning and end. The bass/alto is a nice touch.
A fine debut recording for Hagen and company.
--By "Stix" Leonard

Cadence Magazine
Gerard Hagen Far Horizons, Resurgent Music
Hagen is a bright-toned Bill Evans-style pianist, although his take on "In Walked Bud" is unexpectedly stentorian, introduced and concluded by a repeating dissonant cluster. Otherwise he is more restrained, alternating between sunny an moony phrases. He is at his mooniest on "Sept. 15, 1980," the date of Evans' death. The tracks with Gary Foster, especially "Sept. 15,1980" (at one end of the spectrum) and Kenny Barron's "Voyage," (at the other), crackle with particular energy: Hagen lays out at the beginning of "You and the Night and the Music," and Foster and Kalaf raise more sparks by themselves. They're not Trane and Rashied, but it's a nice moment. When Hagen returns, the clarity and sharpness of Foster's tone become the perfect compliment to his approach. As for Genova, he is solid throughout, and his moment comes with a cool walking solo on "I Hear a Rhapsody." A pleasant recording.
--Robert Spencer

Jazz News
GERARD HAGEN
Far Horizons Resurgent Music
Each member of the Gerard Hagen trio participates equally with ample solo work and a balance of varied support work. From Southern California, the trio insures that Hagen's recording debut is a comfortable listen for the mainstream fan. Alto saxophonist Cary Foster joins the trio on 5 tracks.
Hagen's compositions Sheryl's Surprise and Far Horizons show a preference for the lyrical side of mainstream piano playing. The former is performed a capella and the latter is performed with the augmented trio. Both Foster and Hagen connect their phrases with sweeping motion; the saxo- phonist remains light and delicate while the pianist s style is somewhat more forceful. Bassist Genova extends and enhances the lyrical nature cf the ensemble's performance. After a dreamy rubato piano introduction, Kalaf's composition Sept. 15, 1980 becomes a feature number for Foster who waltzes gracefully around the saxophone. I Should Care lopes along unfettered as a trio gathering, while I Hear A Rhapsody reveals individual improvisiation from each of the four artists. Recommended.
--Jim Santella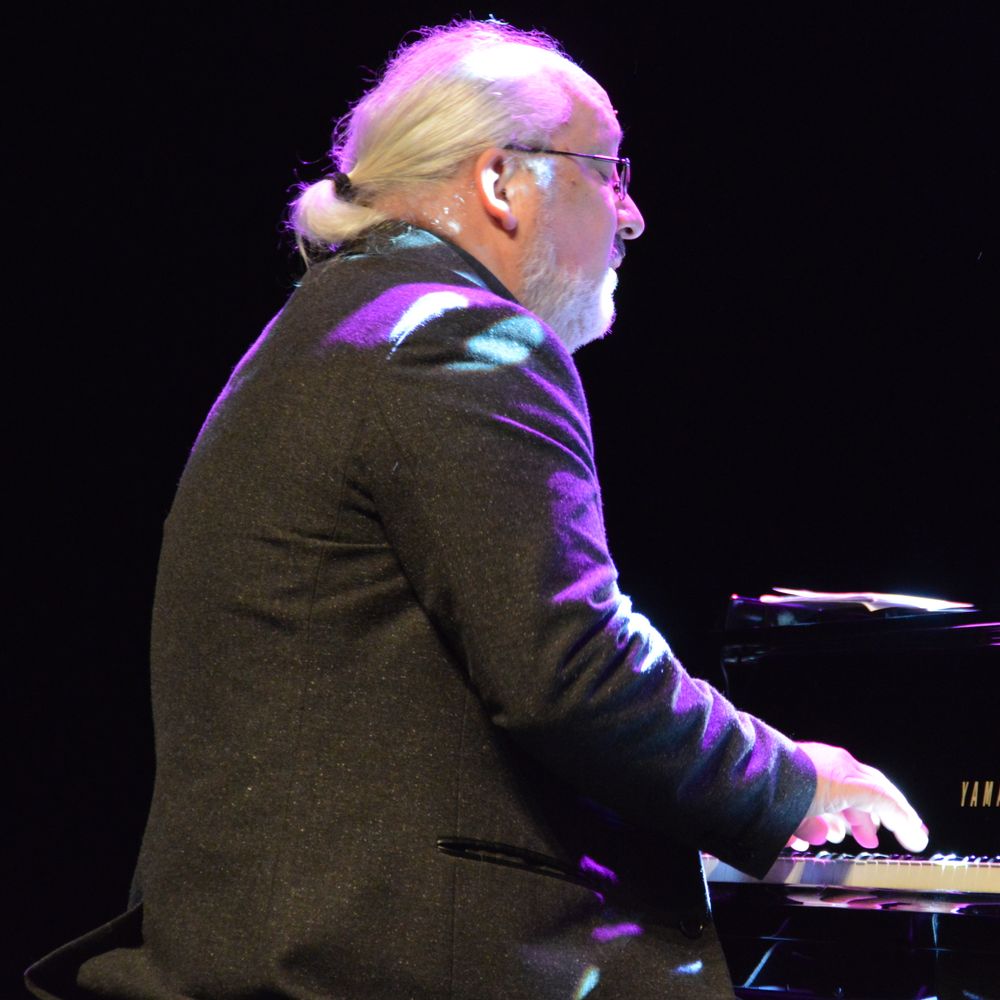 Gerard Hagen Performance Reviews
L.A. Jazz Scene May 2006
LESLIE LEWIS QUARTET AT CAVALLINO RISTORANTE
Jazz vocalist Leslie Lewis is one of those rare finds. She has a contralto voice, producing a dynamic and lovely sound. She just naturally struts on most of her songs as she sings them. She hails from East Orange, New Jersey and her vocal influences are the inimitable Nancy Wilson and Cleo Laine. The Gerard Hagen Trio accompanied her, with special guest, tenor sax man, Chuck Manning.
Pianist Hagen played several solo warm up tunes before the set started, including "Sweet and Lovely" and "If You Could See me Now." It was inspiring to hear such fine piano playing. His trio, with Domenic Genova on bass and drummer Jerry Kalaf has been together now eleven years and produced several CDs --all recommended. These three musicians have impressive individual credits as well.
The Hagen trio started with two numbers, "How My Heart Sings" and "Autumn Leaves," providing some tasty and mellow sounds. Lewis kicked off the first set with an outstanding version of "On the Sunny Side of the Street." Lewis has the good taste in picking a selection of the best tunes from the popular American standards: "I've Got You Under My Skin," "The Very Thought of You" and "Try a Little Tenderness". She added impressive high notes while singing "'They Can't Take That Away From Me." Genova did some eloquent bass lines and Kalaf provided super rhythmic drumming.
Joining the quartet was surprise guest, Chuck Manning on tenor saxophone. Manning added some magical ambiance to the room with his sax playing in both "Just in Time" and "Days of Wine and Roses." My favorite ballad, of this night's performance was "Don't Go To Strangers." Lewis did some significant scatting throughout I the piece. The audience was very appreciative and responsive to Lewis and her musicians. Other excellent selections included Horace Silver's "Song For My Father," with lyrics sung by Lewis, "I Thought About You," Ellington's "I Got It Bad and That Ain't Good" and "The Song Is You," ending a superb evening of jazz.
Lewis and the Hagen Trio are in the process of making their first CD together, which will be out later this year. See Hagen's website: www.gerardhagen.com. The Cavallino website shows upcoming jazz schedules and their Italian cuisine: www.cavallinoristorante.com. This quartet has more upcoming performances at Cavallino in the near future. Definitely recommended.
--Glenn A. Mitchell
 
PERFORMANCE REVIEWS
L.A.Jazz Scene
VENTURA VANGUARD CONCERT AT LAUREL THEATRE FEATURED THE GERARD HAGEN TRIO
VENTURA - Will Thompson's Ventura Vanguard at the Laurel is proving to be just the ticket for jazz aficionado. Thompson who, over the years, has dabbled in oroanizing and promoting jazz concerts. The secret to his current success appears to be to rent a smaller venue, book top players; then fill the room with fans. it seems to be working just fine, thank you, in light of his fourth concert in the current series on August 14, which featured the Gerard Hagen Trio. Recent successful Thompson concerts starred the trios of Pete Jolly and Theo Saunders and the Jonathan Dane Quartet.
Pianist Hagen. whose regular trio includes bassist Domenic Genova and drummer Jerry Kalaf, also works on occasion with guitarist Larry Koonse and bassist Henry "Skipper" Franklin, two of the jazz scene's luminaries. It was with the latter two that he performed in the Laurel Theatre's downstairs room on this recent gig.
The cozy room, which has all the necessary accouterments, has a seating capacity for only 50 persons, creating an intimate setting for the audience and the musicians. It is further enhanced with a Gallery of paintings and, on this particular evening, a display of fine jazz pictures by photographers Joel Milder and Gilbert Sanchez.
The concert proved to be an excellent and entertaining blending of talents for the room-filled crowd of local jazz supporters, there in a theater-type ambience to listen to and appreciate the musicians' playing of familiar jazz tunes. The group opened with "Autumn Leaves" then stepped up the tempo with "Oleo," followed by a duet of Franklin and Koonse doing "Round Midnight". It was an impressive showing of their command of their instruments, as was Hagen's ballad style, piano rendering of his composition, "Sheryl's Sunrise," a tune dedicated to his wife. Amongst the several other numbers played during the well-balanced two set program were: "In Walked Bud", Voyage", "Beautiful Love", "Whisper Not", "I Love You", "Solar", "Like Someone in Love" and "Warne-ing."
It was a reciprocally good evening for the musicians, and the audience. The players appreciated the fact that the people were focused on listening to their efforts, and the listeners were glad to be doing just that without the noise distractions so common in most jazz clubs. 
--Bob Agnew

L.A.Jazz Scene April 2000
STEAMERS CAFE PIANO SERIES
The Gerard Hagen trio is blessed with two talented composers, one at the piano and Jerry Kalaf on drums. A third of the tracks on their Far Horizons recording with Gary Foster on alto sax is original material. "Bass Tune," a chart by Kalaf, featured veteran Putter Smith, who sat in for Domenic Genova on bass for their appearance last month. This was a tune that only got better with your eyes wide shut to hear the aurora borealis dance across the midnight sky.
The trio was a living jazz laboratory, cooking with the seemingly effortless ease of consummate musicians through both the familiar and the, as yet unrecorded. Monk is irrisistable and the trio swung hard and connected on "In Walked Bud," also featured on the disc. Whether it was Cole or Kern, these guys kept pulling an endless supply of different textures out of their bag, fascinating the crowd with the way the pices matched or contrasted, weaving intensities together, never the same way.
--Cathy Jensen

New Times Jan.27-Feb.2 2000
Today's corporate culture, where everyone's a free agent has unfortunately filtered into the jazz world. With a lack of steady work for bands, most players jump in with various ad hoc outfits at a moment's notice, and as a result, musicians often don't see themselves as part of a unit, working for the greater good of the music. Orange County pianist Gerard Hagen does his best to counter that; ever since he heard the Bill Evans Trio in college, the 40-year-old Hagen know he wanted to work in a trio, The seamless synchronicity of Evans, bassist Eddie Gomez, and drummer Elliott Zigmund remains a working model for Hagen, whose own trio plays a free show at the L.A. County Museum of Art on Friday. Hagen's compatriots bassist Dominic Genova and drummer Jerry Kalaf - are also team players who compose and look for the pretty notes. Kalaf has long drummed with the Jazz Tap Ensemble, and his rhythms spark the Hagen trio. He's also a prolific writer, with an ear toward lyrical melodies and nice chord changes. Its rare that a drummer is ias attuned to internal voice movements as Kalaf, and that only makes the bond with Genova and Hagen more profound. Until their next album - and it's about time for a follow-up to their fine Far Horizons - this is one of your best chances to hear a modern rarity; a jazz trio that's an actual unit.
--Kirk Silsbee

Orange County/LA Times
JAZZ REVIEWS Out of the Rough and Into the Clear Outdoor Laguna Market an Idyllic Setting for Gerard Hagen to Show He's Become a Smooth Improviser Gerard Hagen has been doing his homework. A few years ago when he was playing with sax man Dan St. Marseilles' quintet, the Lake Form resident was a promising jazz pianist whose playing had some rough edges. Sunday, on the outdoor stage at Laguna Village Market, Hagen worked with a trio and showed that most of those edges have been sanded smooth. That means he's now a spiffier, more complete improviser, and a better musician in general. The setting for Hagen's afternoon performance was idyllic. The market-a rustic assemblage of shops and a restaurant nestled in a grove of protective eucalyptuses-is situated 100 feet above the Pacific Ocean on Coast Highway, just east of downtown. The market's bandstand, a white, wooden hexagonal shaped affair, is parked on a grassy plot, below the market's bricked pauo. Add ocean breezes and a mostly cloudless sky and you have a delightful atmosphere in which to hear music.
Hagen seemed to prosper here, despite playing a rather limited -sounding Roland U-20 portable synthesizer; it ranged from attractive bell-like tones to complaining, whiny notes. The leader was solidly surrounded by upright bassist Chris Colangelo and drummer Dick Weller-two very empathetic partners-and together, for the final set, the threesome explored a program of jazz classics, pop standards and originals.
Wayne Shorter's prancing "Children of the Night," first recorded by Art Blakey's Jazz Messengers on the superb 1961 "Mosaic" album, was a challenging opener. A difficult tune that Hagen and company made appear easy, "Children" swayed between a tension -building section, underpinned by Colangelo's fat bass sound that offered a repetitive figure, and a "release," where the tune goes to surging swing time and the music flows.
Hagen, his gray locks wafting in the wind as he bent his head sideways over his instrument, soloed deftly, his lines moving gracefully in and out of the composition's subtle corners. He began his phrases with punchy thoughts, expanded those initial ideas by rhythmically and melodically juxtaposing them-turning them this way, then that to create an energized stream of sound. These statements were always concluded cleanly.
The keyboardist's accompaniment was just so. Colangeio's pliant-toned lines formed a buttress to the Hagen's improvisation, and Weller provided light cymbal taps and effervescent drum accents, giving Hagen firm but very elastic support. On "Children," Colangelo offered one of several excellent ent solos. He worked in the upper range of his instrument, his perfectly picked notes coming in neat packages that were rhythmically on the money, and that used space as a primary element. He favored small, chunky groupings-three descending notes, a similar idea but starting a tone lower, perhaps followed by a five-note line that ascended in a rush. The bassist then tied these strands together into a greater fabric, and occasionally would unleash a long, serpentine-like frag. ment for contrast. There was a like precise -yet- exploratory mood to the trio's other numbers. on's timeless ballad, "If You Could See Me Now," found Hagen delivering the melody, as Colangelo's bass and Weller's sandpapery strokes on brushes created a backdrop as comfy as an easy chair.
Hagen's "Far Horizon" was a tasteful bossa nova, and here the composer offered soft chords along with lines that leaped, and Colangelo dropped in another first-rate improvisation. "Beautiful Love" was but one tune where Weller revealed his assured skills as a soloist, here trading eight-bar phrases with his Colleagues. He approached the drum set musically, starting with whirring taps of the cymbals and gradually incorporating whaps and slaps at his drums which, pleasingly, had a singing quality.
Sufficient employment seems to be the only thing Hagen's group is lacking. The band, which usually features ace young trumpeter Kye Palmer, returns to the same site on May 15.
--By ZAN STEWART SPECIAL TO THE TIMES